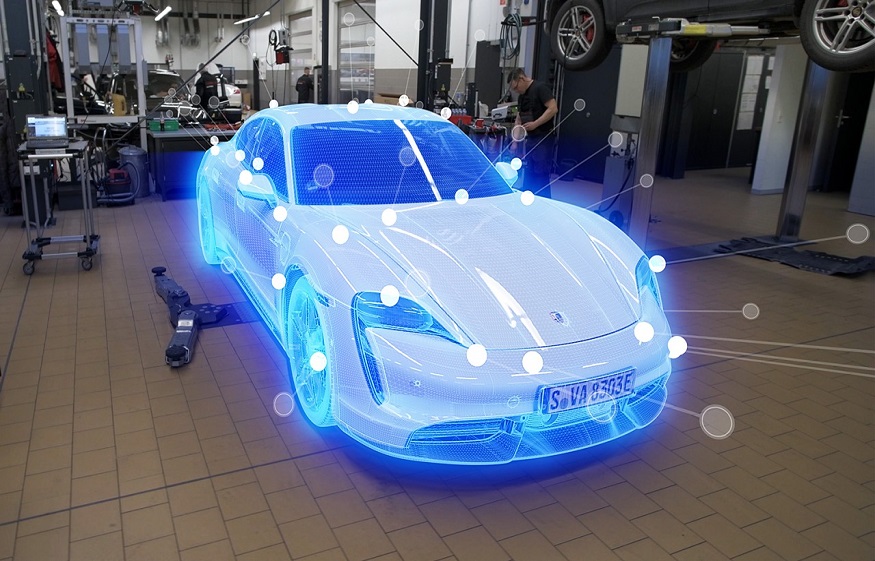 Porsche adopts augmented reality to improve its services
Read Time:
4 Minute, 7 Second
For many people, the sight of a Porsche is already a source of emotion. But the legendary brand's latest model, the Taycan, is unique in many ways. It is the first fully electric production vehicle to come out of the Stuttgart-Zuffenhausen plant. To produce it, the company has developed a completely new workshop solution based on augmented reality. And thanks to him, "the concept of product life cycle management becomes reality" for the Porsche after-sales service (SAV).
This is the judgment of a man who knows what he is talking about. Steffen Loose has been working with Porsche for several years. He is now a Siemens account manager for the sports car manufacturer. Currently, Porsche is collaborating with Siemens on the development of the after-sales solution PARiS — the acronym for "Porsche Augmented Reality in Service".
Don't be overwhelmed by technology
"The technologies on board our vehicles are becoming more and more complex," notes Robin Banse, expert in workshop IT systems with the technical after-sales service of Porsche AG. Components are increasingly numerous, complex and interconnected, while electronics replace mechanics. Digitization multiplies the functions available. Not to mention that Porsche offers its customers ever more configuration and customization options, so that they can compose the car of their dreams. "Our job is to make sure that the vehicles remain repairable," explains Robin Banse."The new Porsche Taycan incorporates a large number of new technologies," adds the expert.  We want to do everything we can to help our employees master this technical complexity, so that they are able to maintain the vehicles. Among the innovations of the Porsche Taycan, there is one that stands out: the 800 V battery. At this level of performance, an all-electric motorization system radically transforms the work of technicians in the workshop.
A 3D animation rather than a long manual
"A picture is worth a thousand words — that's our motto," sums up Marc Robl, PARiS project manager and head of product definition and after-sales information. "We prefer to show our colleagues what they need to fix using 3D animation! No question that they consult endless manuals. First, it's off-putting. Second, automotive technologies have become so complex that it is even difficult to explain them in writing. »Thanks to the PARiS after-sales solution, the technician just needs to hold his tablet in front of the vehicle. This one is recognized automatically, from its silhouette. The 3D animation of the desired part is immediately displayed on the screen, along with a description of the component, a data sheet and maintenance instructions — for example, the tightening torque of a bolt.
Teamcenter software: the heart of the matter
Development data, including information on the parts of the Porsche Taycan to be serviced, is fed into the tool chain. "Then we get to the heart of the matter: our Teamcenter 3D design system " announces Marc Robl. This software from Siemens is used worldwide to manage vehicle data, generate scenarios and publish them. Visualization technology makes it possible to display the 3D animations in any Porsche center, on a tablet or on the workshop computer.
"We see Teamcenter as a unified, but also sustainable solution," explains Marc Robl. "Within after-sales service, there are different disciplines: requirements management, the question of the man-hours needed to complete a task, and of course, content management. At Siemens, almost all of these questions are brought together in Teamcenter, with a module for each topic. And even for the most innovative technologies, for example CAD data animation and augmented reality, Siemens provides us with the solution we need. The PARiS augmented reality solution is developed from existing virtual reality software, as part of an agile project. "Our vision is that of a digital twin , that is to say a combination between the real vehicle and its digital modeling in our application", summarizes Robin Banse.
3D data expertise
"After two years of collaboration, I can say that the people at Siemens are exactly the right people for this project", says Marc Robl. "They bring considerable expertise in the area of ​​CAD data management. Robin Banse adds: "There is no doubt that Siemens has a solid experience in working with 3D data, managing it and enriching it. »A chain of tools that goes as far as after-sales service
"We are pioneers," says Marc Robl. "We are the first car manufacturer to offer this unique tool chain. He is certain: the new after-sales solution will be well received around the world. "As long as this technology offers added value while saving time and money, it will be used in other workshops. »
According to the PARiS project leader, developers have "eyes that light up" when they discover "all that can be accomplished with their CAD data; that in addition to being useful for the construction of vehicles, they allow us to offer optimal assistance to our colleagues in the repair and maintenance departments.